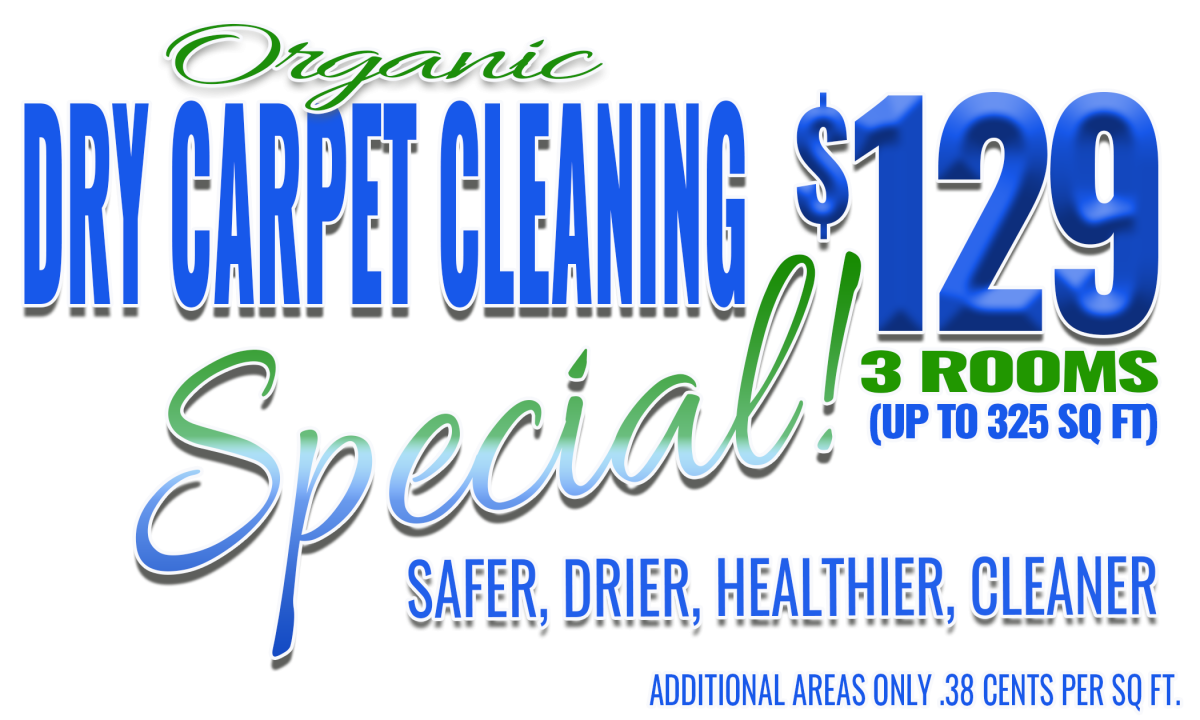 We'll do a thorough inspection of your carpet, measure, give you a guaranteed "To The Penny" quote. If you like the quote, we'll begin immediately. The minimum charge of $129 covers 325 square feet of cleaning. Additional area is only 38¢ per sq ft.
3 Room Special – $129
Your choice of any 3 areas or rooms. Process includes vacuuming, spotting, pre-conditioning, deep cleaning and grooming. Up to 325 "cleanable" square feet. Open Areas only. Additional area is only .38¢ per square foot.
Home Special (Open Area) "Premium" Dry Carpet Cleaning – $299
Includes any rooms or areas of your choice up to 800 "cleanable" square feet. Process includes vacuuming, spotting, pre-conditioning, deep cleaning and grooming. Open Areas only
Upholstery Cleaning – Only $13.00 (per linear foot enzymes included) From $18
Tile and Grout Cleaning .75¢ cents per square foot!
Hardwood Floor Cleaning Only .69¢ cents per square foot!
Stairs – $3 per step
Includes vacuuming, spotting, pre-conditioning, deep cleaning and grooming
Area Rug Cleaning – On Site
We can clean most area rugs on site for a fraction of what it would cost have your rugs cleaned at rug cleaning facility. Our area rug cleaning service has a minimum charge of $129 for 100 total sq ft, then 99¢ per square foot for additional area.
CARPET PROTECTOR– ($20 per 10 x 12 area)
We use the best protector on the market that also happens to be DFE certified by the EPA as safe for humans and pets and earth friendly!
*An area is defined as any space of 120 sq ft or less. Living/Dining combo areas will be considered 2 areas. Rooms larger than 120 sq ft will be considered 1 1/2 – 2 areas, depending on square footage.
REALTOR/PROPERTY MANAGER /RENTAL PROPERTY DISCOUNTS
We work closely with many local realtors and property managers here in Florida. We look forward to building many more long lasting relationships within the local business community. Call us or have us to come by to evaluate, measure and quote for services or to hear about special pricing.
COMMERCIAL CARPET CLEANING
Contact us for a free evaluation and a no-obligation quote
PET STAINS $5 – $20 PER AREA (Depending on size and saturation) In most cases our normal carpet cleaning process may be all that is needed to remedy tough pet stains. In more severe cases, the urine sometimes soaks through the carpet backing, into the padding and floor beneath. In this case, the problem has become "multi-layered" and effective remediation must address each layer of the problem. Precision has developed a specialized method from removing these difficult pet odors and stains. When mistakes happen it's time to call us. We can neutralize the damage that will occur if left untreated. Urine Does Void Most Carpet Warranties and May Cause Carpet and Padding To Need To Be Replaced.
ENZYME TREATMENT $35- We can add an all natural Enzyme Product to the prespray, that is designed to eliminate any organic debris in your carpets. Helps remove odors without covering them up. Especially designed for pets, urine, feces, food odors or any unwanted organic matter in your carpet.
Our pricing is 100% transparent and always includes vacuuming, pre-spotting, preconditioning, deep restorative cleaning and grooming.
Difficult spots and stains may cost additional, but we will always let you know ahead of time. We do not hide anything in our pricing. We always provide free written price quotes and our work is fully guaranteed.
Difficult Spots and Stains – Visual inspection is required. Extra charges may apply for stains requiring special techniques or products. Usually these include dye stains (kool-aid, wine, mustard, wax etc) and extreme pet urine stains.
Light furniture moving included – We will move up to 3 items of furniture per room. These include couches, tables, chairs and other small furniture. We will not move any large over sized items such as beds, entertainment centers, hutches, computer stations, antiques, pianos or anything with fragile or electronic items. Additional items will start at $5 each for moving.
Free Estimate – No Charge – No Obligation – Call us up to evaluate the areas you would like to have cleaned and we will give you free no obligation quote. There is never any pressure or obligation to schedule service.